TibetPermit.com is affiliated with a local Tibet Travel Agency which is a government registered and internationally licensed tour company with all our staff have been working in Tibet tourism for many years.
Tibet Permit 2017
Like previous years, Tibet opens to foreign tourists again from the very beginning of April after the complete closure in March. To some degree, April is seen as the beginning month for Tibet inbound tourism each year and Tibet permit policy declared in each April serves like an indicator for the whole year remains. Yet, it is still very hard to expect what's the next possible policy change could be. The new policy (restriction) could come out anytime if there is any sensitive event (anniversaries, visit by central-government officials or foreign politician) approaches or unexpected suddenness (social unrest, strike) take place. Based on our close relationship with related governmental bodies and rich experience in Tibet tourism, we will keep updating the latest Tibet permit policy in 2017 here if there is any new regulation come out. view more
The managing Director of this company is Mrs. Jill, who have been engaged in the Tibet tours for more than seven years. Two of them started this company with 15 skilled and well trained employees. At present, the Lhasa office has 15 staff members. The company has 20 guides who are proficient in English, Japanese and German languages.
Also, the company has a fleet of modern and the latest vehicles including Toyota Land cruiser, mini vans, mini buses and coaches. For its trekking and biking trips, the company uses the most resilient and strong equipments and tents.
Professional Operation: leading budget Tibet tour operator since 1999, 14 years experience with the best approach to meet your satisfaction.
Rich Itineraries: not just monasteries after monasteries; learning their arts & cuisine; discovering their off-the-beaten beauties.
Reasonable Price: dare to say NO to the unreasonably priced Tibet tour which is labeled as the LV Tour in all tours.
about Tibet Travel Permit
1. only foreign passport holders and visitors from Taiwan to Tibet need to apply for a visa, citizens of the mainland and Hong Kong and Macao residents do not need to apply.
2. to apply for permit to Tibet: You can simply copy your passport and occupation to your travel agents can apply for a permit to Tibet.
Good for Tibet visa, travel agencies in Tibet will give you a confirmation, and only with Tibet in order to confirm the purchase of books and bus tickets and travel tours.
If the foreign guests and compatriots in Taiwan to participate in dream trip to Tibet tour could be a copy of your passport 0086-891-6820909 fax to us, or can give us email: tibet@live.com , we can apply for your Tibet procedures.
People can go to the border areas of Tibet Tibet border area to apply for approval of letter of travel permits, generally by Tibet travel agent. General needs of visitors to Tibet for a tourist visa, that is, we often say that the L visa, business visa if it is also Tibet, but some trouble. Be noted, however, is not allowed foreign journalists into Tibet visa, please note that foreign friends in the item.
Tibet Travel Permit, known as Tibet Visa among westerners, is a special permission from Chinese government and a must-have document for foreign travelers to Tibet. They are required to show it when boarding a train or plane to Tibet.
Here are some practical guidelines. Travelers can follow the tips below easily.
1.Holding a passport valid for at least six months. For those traveling to Tibet from mainland China, it is best to get a Chinese visa three months in advance. Those going to Tibet from Nepal must apply for a visa in the Chinese Embassy in Kathmandu. Travelers need to arrive in Kathmandu several days in advance as the working days of the local Chinese Embassy is Monday, Wednesday and Friday.
2.Choosing a reliable travel agency. Tibet Tourism Bureau does not issue permits to individuals, and would ask them to go through the travel agency where they book tour services. Dozens of online agencies offer Tibet tours, but not all are able to guarantee the permit. It is advisable to select a big one.
3.Planning the tour in advance. When applying for the permit, travelers are asked to provide information about when and where they will travel in Tibet. All the information will be stated on the permit. Once the permit is issued, it is difficult to request an extension or any other changes.
4.Providing genuine documents to the travel agency. This includes scanned copies of the Chinese visa and passport. Detailed personal information is also needed, such as the full name, gender, date of birth, nationality and occupation. Travelers should get all these prepared 15-20 working days in advance, for it takes 8-10 working days for the relevant departments, such as the public security bureau, tourism bureau and foreign affairs office, to review the materials.
The 5 Tibet Travel Permits and Visas You'll Need
Traveling to Tibet can seem as daunting as climbing Mount Everest. Since the social unrest in 2008, any form of travel in and out of Tibet has been closely monitored. Visitors must now arrange travel plans through a Tibetan tour agency to obtain the necessary permits and visas.
To check off everything off your list, you'll need up-to-date information and a clear understanding of the different Tibet permits and visas involved in your trip.
We've prepared this outline to get you one step closer to touching the snow at Mt. Everest Base Camp.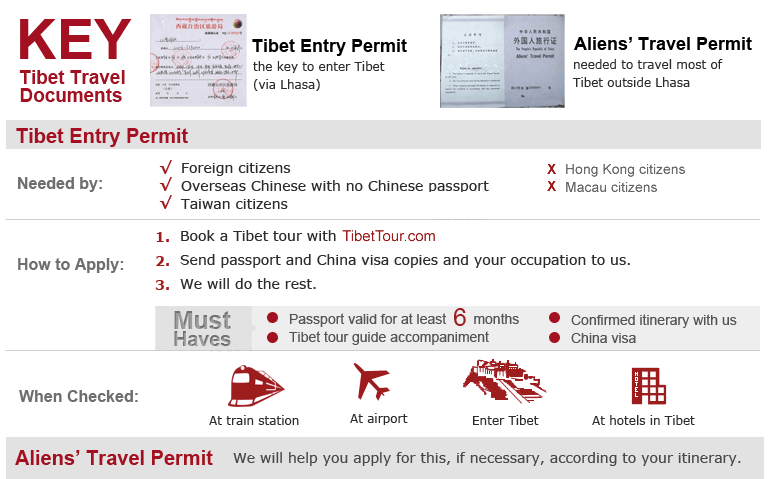 1. Chinese Visa
Tibet is officially a province of China, so every traveler must have a valid passport and Chinese visa to enter Tibet (except if you are entering from Nepal). You can apply for the visa at most Chinese embassies and consulates in your area.
The 5 Tibet Travel Permits and Visas You'll Need

Since Tibet is a politically sensitive area, the Chinese Consulate or Embassy may refuse your visa application if you list Tibet as a travel destination. We recommend choosing an alternate city in mainland China such as Beijing, Chengdu, Shanghai etc. as your destination.
For further details about obtaining a Chinese visa, please visit the Chinese Embassy website HERE
2. Tibet Group Visa
If you are entering Tibet from Nepal, you will need to obtain the Tibet Group Visa from the Chinese Embassy in Kathmandu. It is an A4 size sheet of paper with the name, sex, nationality, passport number, date of birth and occupation of each member listed in your group.
View a larger version of the Tibet Group Visa

All travelers in the group must enter and leave China together. The dates of entry and exit are precisely recorded.
To apply for the Tibet Group Visa, you will need a visa invitation letter from the Tibet Tourism Bureau sent by a tour agency in Tibet. Our office in Lhasa can prepare the necessary arrangements and send them to our local agent in Nepal to help travelers apply for the Tibet Group Visa.
3. Tibet Travel Permit (TTP)
View a larger version of the Tibet Travel Permit

Often mistakenly known as the "Tibet Visa," the Tibet Travel Permit (TTP) is actually the entry permit to enter the province. TTPs must be applied through a local tour agency in Tibet. It is impossible for foreign tourists to board a train or flight to Tibet without a TTP.
The permit specifies every destination and attraction you will visit on your tour and cannot be changed once you arrive in Tibet. Therefore it is essential that you finalize your itinerary with your tour operator before they apply for the TTP.
If you hold a visa different from the (L) Tourist visa, such as a student or work visa, you will need a letter from your school or company to clarify the purpose of your visit.
4. Alien Travel Permit (ATP)
View a larger version of the Alien Travel Permit

If your itinerary includes passing through a restricted area, you will need an Alien Travel Permit (ATP). The ATP is a travel document issued by the Public Security Bureau, a branch of the police that handles affairs with foreigners.
Upon your arrival in Tibet, your tour guide will take your original passport to the local Public Security Bureau and apply for the ATP on your behalf.
While you are in Tibet, your tour guide will carry all the permit. When staying overnight at a hotel or guesthouse, your tour guide will use it to register you with the proper authorities.
5. Military Permit
View a larger version of the Tibet Military Permit

The military permit is a travel document issued by the military authority in Tibet. You need it to enter politically sensitive areas and border regions where territory is disputed between China and India.
Border Regions:
Kailash trekking
Guge Kingdom
Lake Manasarovar
Ali
Tsochen
Kyirong
Nyima County
For your trip to Tibet, your main responsibility is to secure the right visa to enter China and send the proper documents to your tour agency. From there Explore Tibet will apply for any necessary permits on your behalf.
Mt. Everest doesn't seem so far away now, does it?
How to get Tibet Travel Permit (Tibet Visa)
According to policy of Tibet Tourism Bureau, traveler can not apply the Tibet Travel Permit on his(her) own. He(she) has to book tour service from a certificated agency, and let the agency apply the permit.
1. Work out a detailed itinerary in Tibet and reserve from a China travel agency .
2. Hire a tour guide and driver for your every day tour(your travel agency will arrange for you).
3. Pay a deposit to your travel agency through Paypal or bank transfer
4. Send scan copies of your passport and China visa.
5. Offer an available address in China(hotel or local agency) to receive your permit.
6. We express the permit to you, or let a tour guide give it to you at airport or train station before your trip.
Note: Note: Above policy doesn't apply to Diplomats, journalists, media photographer or government officials.
Can I get the permit in my country before arriving in China?
Normally, we are able to apply for the Tibet Travel Permit 5-7 working days before the trip's starting date. If you are going to fly into Tibet, you should have the original permit to board the flight to Tibet, so you should provide us with details about your hotel or residence address in China (including the correct name under which the booking is made) and we will send the original permit to you by EMS which takes 24hrs to 3 days within China, we never mail it abroad as it takes longer and could be delayed or lost. If you don't have a long layover or overnight in China, you can send us your detail international flight information and we can arrange someone to deliver the permit to you at the airport.
if you enter Tibet by train,we will scan it and send the permit to you by email. You can print it out into triplicate. Since you will take the train to Lhasa, So only the copy of the permit should be Ok. Please show the copy of the permit when you pass the check in at the train station.
How to get Tibet Travel Permit Successful Application Tips
At the present time the application and issuance of Tibet Travel Permits is continuing normally. We have successfully helped more than 2,000 clients receive their Tibet Travel Permits in 2016. We offer a 100% success guarantee for all of our customers in their application for a Tibet Travel Permit. We promise to nail visa to Tibet for every of our clients with 100% guarantee.
Discover Tibet Tours stands ready to help all travelers who plan to visit Tibet. With our years of Tibet tour operation experience and our outstanding networking ability within the industry, we promise our customers a hassle-free Tibet Travel Permit application service. We will treat your inquiry with the respect that it deserves and respond promptly to any questions.
Feel free to join any our fixed-departure Tibet small group tours for a once-in-a-lifetime visit to this fascinating land, or have us put together a customized tour plan that fits your needs, all at the most competitive prices in the industry.
Getting to Tibet
You can travel to Tibet from both Nepal and from Mainland China. In general, getting to Tibet from Mainland China is easier as you do not have to be on a Group Chinese Visa, which is required if you are entering Tibet from Nepal. The name "Group Chinese Visa" is a bit misleading as solo travelers (on an organized tour) can get a Group Chinese Visa even though they are traveling by themselves. A Group Chinese Visa cannot be extended within China like a normal Chinese Tourist Visa can.
From Nepal, there are 2 ways to get to Tibet: Overland or by air. The flight is only about 75 minutes long from Kathmandu to Lhasa. Another option is to fly from Kathmandu to Chengdu and then take the train to Lhasa. You can also go overland from Kathmandu to Tibet. From Kathmandu to the border of Nepal and Tibet, a travel agency in Nepal can arrange a private vehicle for you or you can (usually) take a public bus. From the border, your Tibetan guide will meet you and from there you will travel by a private vehicle with a driver. Normal tourist vehicles from Nepal do not enter into Tibet, which is why you will need to change vehicles at the border. As stated above, a travel agency will take care of ALL of these details for you. You do not need to worry about arranging this yourself. Read the following link for more information on how to go from Nepal to Tibet: How to go from Nepal to Tibet
From Mainland China, most people either fly or take the train to Tibet. There are direct flights to Lhasa from Chengdu, Xining, Lanzhou, Labrang (Xiahe), Beijing, Chongqing, Xi'an and Kunming. Most people prefer to fly to Lhasa from either Chengdu or Xining. In addition to Lhasa, you can also fly from Chengdu to Nyingtri (Linzhi). In order to fly to Lhasa, the travel agency you use will need to mail you the original permit to a hotel/hostel you will be staying at in Mainland China. Read the following link for more information on how to get to Tibet from Mainland China: How to get to Tibet from China
The train to Lhasa began operating in July 2006. There are trains going to Lhasa originating in the cities of Xining, Lanzhou, Chengdu, Chongqing, Beijing, Shanghai and Guangzhou. Most people taking the train to Tibet do so from Xining. Xining is the official starting point of the Tibetan Railway and is the closest major city to Lhasa. Xining, elevation 2300 meters/7500 feet, also allows travelers to better acclimatize to Tibet's high elevation. In order to take the train to Lhasa, the travel agency you use will email you a copy of your permit, which can be printed out to show officials.
NOTE: The overland routes from Sichuan and Yunnan provinces to Tibet have been closed to foreign travelers for many years. It is hard to say when (or if) these routes will open again.
Aliens' Travel Permit is required to visit 'unopened' areas. It is issued by the police (Public Security Bureau, "PSB"). Usually, you can apply for it once you arrive at Lhasa. For tour groups, our guide will ask you for the passport and Tibet Travel Permit, which they will submit to the Foreign Affairs Division of the PSB for the Aliens' Permit. It normally takes several hours and the cost is 50 CNY per person. If you travel alone, you need to join local tours to 'unopened' areas, and the local travel agencies will arrange the PSB for you as well. Pay attention, no travel agency can provide 'Alien's Travel permit-only' service.
Notice: If you want to do a Tibet overland tour from Yunnan, Sichuan, Qinghai or Xinjiang province to Tibet, you must got the PSB permit before your tour starts.
Which parts of Tibet are listed as the closed areas?
At present, you have to apply for a Alien's Travel permit if you are planning to visit the following places:
Tsedang: Samye Monastery, Tomb of Tibetan King, Trundruk Monastery, Yumbulakhang
Shigatse: Sakya Monastery, Mt. Everest, Rongbuk Monastery
Gyangtse: Pelkor Chode Monastery & Kubum Stupa
Ngari Region: Mt. Kailash, Lake Manasarovar, Tsaparang, Years, etc.
Nyingchi Region: Basum-tso, Pomi, Rawo-tso, etc.
Chamdo Region: Chamdo, Riwoche, Tengchen, etc.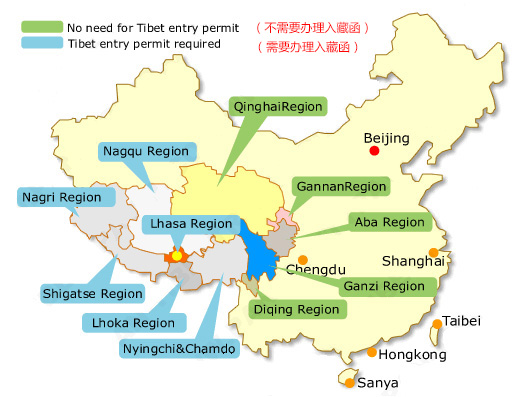 How much is a Tibet travel permit
The Tibet Travel Permit (TTP) is necessary for foreigners to get into the Tibetan Autonomous Region. Tibet Tour Agency can apply for the Tibet travel permit for you. Many guests may ask how much is a Tibet travel permit them should to pay. Here we will you the answer.
Firstly, Please note that we never just SELL a permit as this is illegal. We only help you obtain a permit from the Tibet Tourism Bureau. The cost for a permit includes both the charge by the government and the service fees by our travel agency. The cost will be calculated into the quote of the whole tour package including tour guide and other items.
Let us apply permit for you
E-mail: TibetTravelAgency@gmail.com
Have a nice day!